New Trust, Katagami, Japan
Case – New Trust, Katagami, Japan
Customer challenge – Developing the greenhouse business profitable with the current wage cost structure
Our solution – Volter 40 CHP
Customer benefits – Stabilizing profitability by reducing energy costs and selling electricity to the grid
Creating a model for agriculture and social welfare fields
New Trust is a company located in Katagami, Japan in the business of selling hydroponic vegetables. The company was established 2008 and it has created a new initiative in providing year-round employment opportunity to local disadvantaged workers to cultivate lettuce and other vegetables in a  greenhouse. Their aim is to establish a new business model for industry which combines agriculture and social welfare fields.
Stabilizing operations with the Volter 40 Indoor
New Turst operates two hydroponics greenhouses. The total greenhouse area is 595 m2. One Volter 40 CHP is installed next to the greenhouse facilities and is generating an annual electrical output of about 300 000 kWh. The excess electricity is sold to the grid, which creates income and stabilizes company's economics. The heat from the Volter 40 CHP is fed through the fan system to the greenhouses, which significantly reduces heating costs and enables year-round cultivation. The CHP power plant has a separate 264 m2 space with a woodchip drying system. A portion of the heat produced by the CHP is used for drying the woodchip, allowing New Trust to buy moister woodchip with a lower cost.
The future plans of New Trust include building a new greenhouse which also gets the heat and electricity from a biomass power plant. Thanks to economically profitable energy production, New Trust is able to secure jobs for socially disadvantaged people and provide decent salaries for them.
"Agricultural and social welfare organizations which utilize compact biomass generators are rare in Japan. By stabilizing our operations through electricity sales and year-round cultivation, we are able to provide agricultural jobs to both elderly and persons with disabilities who seek to work. We hope that, once we get our operations on track, this will help promulgate such systems across the nation."
Nakamuta, New Trust CEO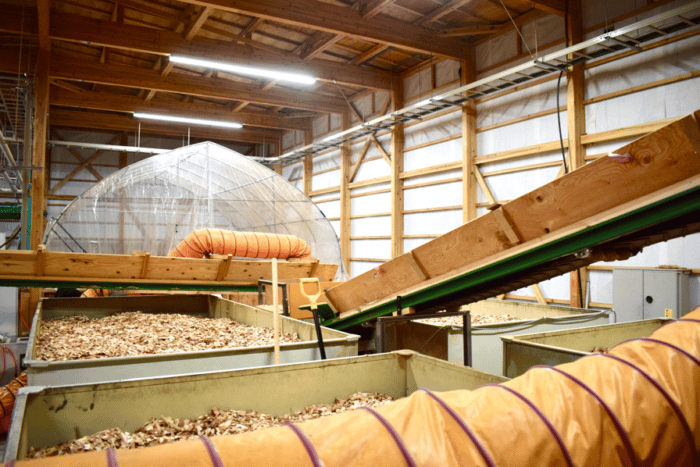 This installation was done by Volter´s distributor in Japan, Volter Japan.
Project Details
Location : Akita, Japan