OUR TECHNOLOGY
Our innovation enables efficient electricity and heat production using your local biomass. Wood in the form of wood chips is superheated to form wood gas, which fuels the internal combustion engine that runs the generator. Heat from the process is recovered into water. One Walter woodchip powerplant produces enough electricity and heat for the annual needs of a farm, an entire small housing estate or small business. Multiple units can be combined together for larger plants.
OUR BENEFITS
Our solution offers several unique benefits:
Ecological – Replacing fossil fuels with CO2 neutral biomass
Economical – With a competitive price per kWh
Reliable – Most uptime with high level of automation and premium quality
Easy to use – With the easiest user interface and highest level of automation in the market
Available – When other forms of local renewable energy are down
Space saving – with the smallest plant footprint in the market
Scalable – Multiple units can be combined together for larger plants.
THIS IS HOW IT WORKS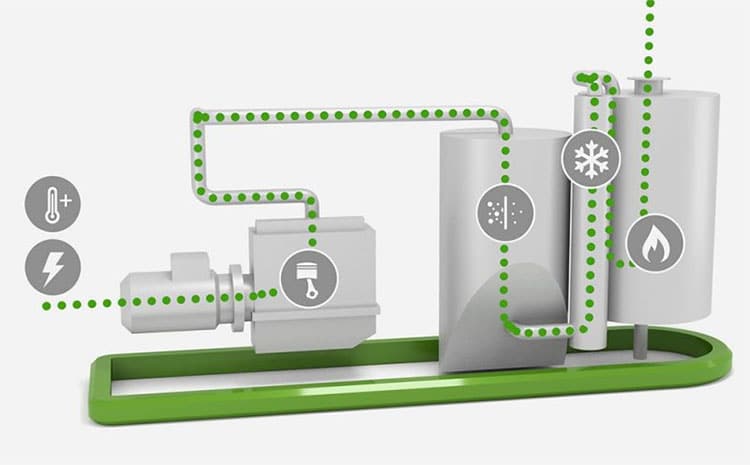 1. Biomass gasification
Woodchips are fed into the gasifier where combustion occurs at low oxygen levels and high temperatures, forming clean gasification gas.

2. Gas cooldown
The heat exchanger cools down the gas to 200 °C.

3. Particle filtration
The filter separates all solid particles out of the gas.

4. Air mixing and combustion
The secondary heat exchanger cools down the gas to 60 °C and mixes it with air. The cooled gas is fed to the combustion engine, which runs the generator.

5. Electric power output
Walter CHP outputs 50Kw electric power.

6. Heating power output
Walter CHP outputs 130 kW heating power as warm water.

50
kW
Electric power

130
kW
Heating power as warm water
Watch the video: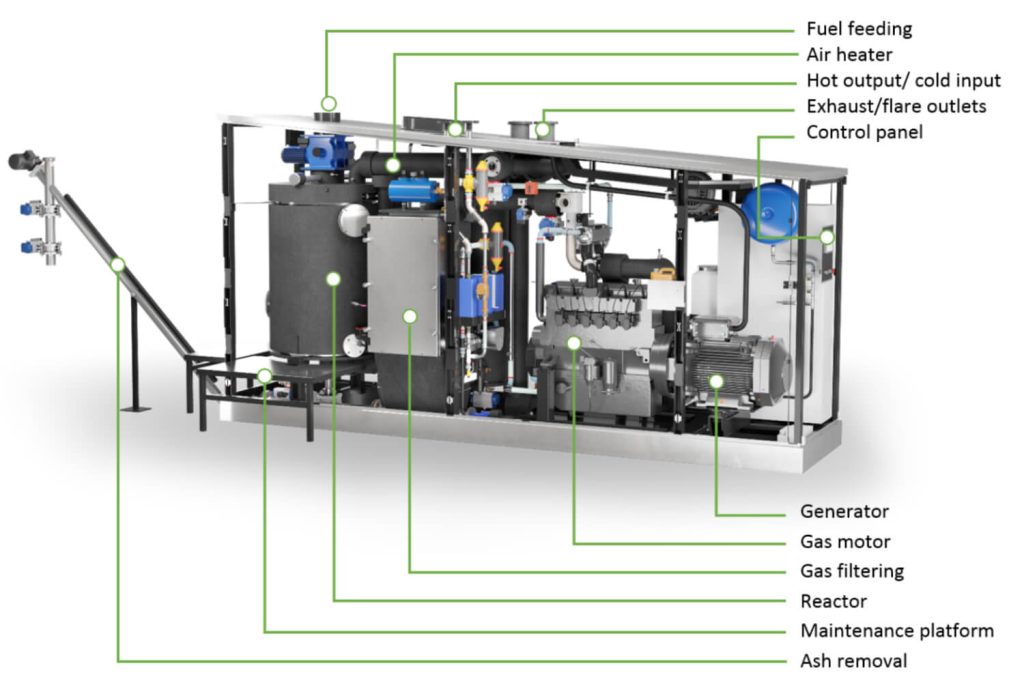 Automation
Walter CHPs have an automation system that continually measures on-going activities and allows the CHP automatically adjust operations according to the changes. From the touchscreen, you can effortlessly follow the processes of your CHP. Volter brings monitoring and controlling of the CHP to the comfort of your home. You can easily remote control the CHP from a computer and mobile devices. Thanks to the safe, fast and advanced automation system, also the technical support and upgrades are always easily accessible.