Send a message
Contact us, we are happy to answer your questions!
Volter 40 Outdoor
Fuel: Woodchip Electric power: 40 kW Heating power: 100 + 20 kW
Volter 40 Outdoor combined Heat and Power plant (CHP) is designed for outdoor or temporary installation. The CHP is built into a standard 40′ HC DD sea container and is delivered factory tested, ready for shipping as a standard sea freight container. Installation on site includes cuttings for inlets and main grid and heating pipe connections. External fuel supply system, outer board panel installation and solar panels with up to 4 kW of electric power are optional.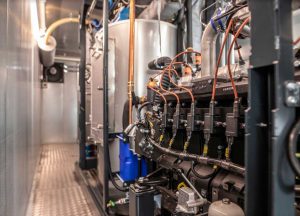 Electric power
Heating power as warm water
Heating power as warm air
Lenght: 12 m Width: 2,5 m Height: 2,9 m Mass: 10 tn Colour: grey Structure: 40' HC DD sea container with thermal insulation and soundproofing Installation: on an asphalt or concrete platform or pylons Fuel feeding: a day silo included, external fuel supply system on request Fuel consumption: ca. 38kg/h Automation: Schneider Electric programmable logic; GSM alarms, remote internet control Connection: electricity cable, heat piping (cold in, warm out), internet connection, GSM connection Fuel: Wood chips
Technology
Our innovation enables efficient electricity and heat production using your local wood resources. The gasifier is superheating the biomass such as woodchips into wood gas, which is a fuel for an internal combustion engine that runs the generator and produces electricity. The process also generates heat that can be used for different heating and drying purposes.
More about technology
Automation
Volter 40 Indoor and Outdoor CHPs have an automation system that continually measures on-going activities and allows the CHP automatically adjust operations according to the changes. From the touchscreen, you can effortlessly follow the processes of your CHP.
Volter brings monitoring and controlling of the CHP to the comfort of your home. You can easily remote control the CHP from a computer and mobile devices. Thanks to the safe, fast and advanced automation system, also the technical support and upgrades are always easily accessible.
NOXBUSTER SCR SYSTEM
NOxBUSTER® is an accessory part for Volter 40 Indoor CHPs. It provides an efficient and reliable system for emission reduction. With this SCR technology-based solution, NOx emissions can be reduced up to 80 % and CO emissions up to 90 %.
More about NOxBuster SCR System
VOLTER SPACE
Volter Space takes the energy production into the IoT world. You will have access to a cloud service, where all the plant parameters and sensor data are stored.
More about Volter Space
Ask for a quote or more details...
Send a call request
Send a call request with the form below. We are happy to answer your questions!
Privacy Policy
Send us a message
Contact us with form below and we will get back to you as soon as possible.
Privacy Policy