Send a message
Contact us, we are happy to answer your questions!
Volter Space
Data logging and monitoring
Volter Space takes the energy production into the IoT world. You will have access to a cloud service, where all the plant parameters and sensor data are stored. You can track and analyse the date or use it in third-party applications. With Volter Space, you can directly send the service log information to your distributor, service provider or Volter.
Volter space gives a clear and easy overview of the CHP's status and key values of the process which are for example:
Power output
Produced energy
Running hours
Utilization rates (daily, weekly, monthly, annual/yearly)
Tracking shut downs
Volter Space is delivered as an extra feature for Volter 40 CHPs. For further information, please contact sales@volter.fi.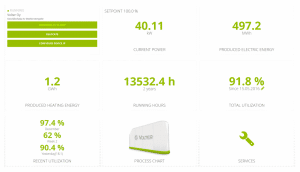 Ask for a quote or more details...
Send a call request
Send a call request with the form below. We are happy to answer your questions!
Privacy Policy
Send us a message
Contact us with form below and we will get back to you as soon as possible.
Privacy Policy